St Francis, Terriers - St Thomas the Apostle (03.07.2016)
Peter Wainwright
Today is the Saint's Day for Thomas the Apostle. The words of Thomas are recorded three times in the Gospel according to John.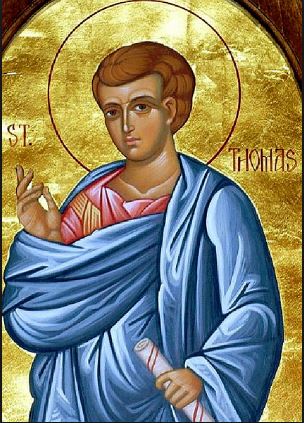 Firstly in John 11 v 14 -16:
14 Then Jesus told them plainly, 'Lazarus is dead. 15For your sake I am glad I was not there, so that you may believe. But let us go to him.' 16Thomas, who was called the Twin, said to his fellow-disciples, 'Let us also go, that we may die with him.'
So, Thomas was a twin. Do we have anyone who is a twin here this morning? I wonder if Thomas had a brother or a sister twin? I wonder if the other twin also became a follower of Jesus? Such is the mystery of faith! Thomas was prepared to go along with Jesus into certain danger. Brave Thomas –not just doubting Thomas.
Secondly, in John 14 v 1 – 7:
4 And you know the way to the place where I am going.' 5 Thomas said to him, 'Lord, we do not know where you are going. How can we know the way?' 6 Jesus said to him, 'I am the way, and the truth, and the life. No one comes to the Father except through me. 7 If you know me, you will know my Father also. From now on you do know him and have seen him.'
Thomas asked a good question! If you don't know something, ask the Lord. It gave an opening for one of the deepest comments from Jesus. Enquiring Thomas, searching Thomas - not just doubting Thomas!
And thirdly in John 20 v 19 – 29:
24 But Thomas (who was called the Twin), one of the twelve, was not with them when Jesus came. 25 So the other disciples told him, 'We have seen the Lord.' But he said to them, 'Unless I see the mark of the nails in his hands, and put my finger in the mark of the nails and my hand in his side, I will not believe.'
Now, Thomas had not been there to receive the Holy Spirit on the first visit of the Risen Lord Jesus. Perhaps you cannot believe until you have received the Holy Spirit of God. However, once he was in the presence of the Risen Lord he did not need to push the 'give me evidence' line.
26 A week later his disciples were again in the house, and Thomas was with them. Although the doors were shut, Jesus came and stood among them and said, 'Peace be with you.' 27 Then he said to Thomas, 'Put your finger here and see my hands. Reach out your hand and put it in my side. Do not doubt but believe.' 28 Thomas answered him, 'My Lord and my God!' 29 Jesus said to him, 'Have you believed because you have seen me? Blessed are those who have not seen and yet have come to believe.'
Thomas could have just said, 'my Lord' or master, or yes you really are Jesus and you have risen from the dead - based on the visual evidence. The proof in front of him was sufficient to identify the same Jesus he had followed. But, having been open to receive the Holy Spirit (who only comes if invited) he could go on to say much more – MY GOD. Convinced Thomas –not just doubting Thomas.
Doubt can be a healthy thing – it is good to weigh up carefully what you are told. Doubt is not the same thing as atheism. Atheism is being certain that there is no God: that we are all here by sheer chance and accident of nature. Doubt, on the other hand, allows for the possibility that there is a God who cares about us and watches over us – but what can we know about HIM?
The Risen Lord is among us by the Holy Spirit as we join in the acts and words of Communion – although he chooses to remain physically invisible. He breathes peace into our hearts –particularly in these uncertain times in this nation. We are all one in Christ, no matter what our ethic background. AMEN