St Francis, Terriers - Easter 7 (08.05.2016)
Tony Dickinson
On this day in 1373 a young woman in her thirty-first year lay seriously ill in her family's home in Norwich. The people surrounding her bed thought she was dying. So did she. After she had lingered between life and death for nearly a week the parish priest was sent for. He gave her the last rites of the Church, expecting that she would be dead by the next morning; and he left a crucifix positioned at the end of her bed so that she could look at it and draw comfort and spiritual strength in her last hours.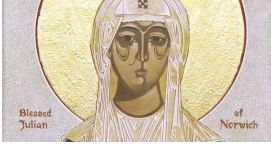 But the young woman didn't die, and in the hours that followed as she gazed on that cross with its painted figure, she received a series of what she called "showings", focused on the suffering and death of Jesus, but embracing many other aspects of Christian life and understanding. There were sixteen "showings" in all – fifteen of them "off the reel", so to speak, then a gap, then one final "showing" which concluded and confirmed the previous fifteen.
The young woman recovered; and for many years she meditated on the things that had been shown her, insights into sin and death, creation and providence, and above all the wonder of God's love. She gave up the life she had known. Some scholars wonder whether she might have been widowed, and maybe lost children, in one of the outbreaks of plague which hit England in the early 1370s, aftershocks from the devastation of the Black Death twenty-five years earlier. For whatever reason, she gave up the life she had known and was enclosed as an anchoress, a woman withdrawn from the world, in the cell attached to the church of St Julian, a quarter of a mile or so from the city centre and about a hundred yards from the River Wensum. There she remained for the rest of her life (nearly half a century), from the church's dedication she took her name, and there she pondered all that she had seen and heard on that May night in 1373.
She made more than one attempt to record her experiences and her thoughts, but it wasn't until more than fifteen years had passed that she realised that the key to opening up all that had been revealed to her was love. "Love was our Lord's meaning."
"Love was our Lord's meaning." With those words Julian echoes the words of Jesus in this morning's Gospel when he prays "I made your name known to them, and I will make it known, so that the love with which you have loved me may be in them, and I in them". Jesus will make God's name known on the cross, which, in John's Gospel becomes the throne of his glory, as it is for Julian. She does not turn away from the horror of crucifixion. Her showings confront her with the insults and spittle and disfiguring and bruising, "his dear face, dry, bloodless, and pallid with death," with the blood flowing from the wounds made by the crown of thorns, the heart pierced by the soldier's spear-thrust. But all this is not a cause for sorrow, but for gratitude and joy, as the Lord shows Julian his heart riven in two and says to her "See, how I have loved you."
For Julian the love of God revealed in Jesus can be compared to the love of a mother. His sufferings on the cross are the labour pains through which he brings our new life into existence. A mother bears us into a world of pain and death. "What", asks Julian, "does Jesus, our true Mother, do?" And she answers her own question, "Why, he, All-love, bears us to joy and eternal life". What is more, as a mother breast-feeds her child, so Jesus feeds us with his own body and blood in the Eucharist. "The human mother will suckle her child with her own milk, but our beloved Mother, Jesus, feeds us with himself, and, with the most tender courtesy, does it by means of the Blessed Sacrament, the precious food of all true life."
For Julian God's love is the greatest thing, holding the whole of creation in being. In the very first showing the Lord offers her "a little thing, the size of a hazelnut, on the palm of [her] hand, round like a ball." As she looks at it and wonders "What is this?" she hears the reply "It is all that is made." "I marvelled", Julian continues, "that it continued to exist and did not suddenly disintegrate; it was so small. And again my minds supplied the answer, 'It exists, both now and for ever, because God loves it.' In short, everything owes its existence to the love of God." From that moment of insight she comes to recognise three truths about creation: that God made it; that God loves it: and that God sustains it. She saw, too, that we have to realize the littleness of creation before we can love and possess God who is uncreated, and our true rest and peace.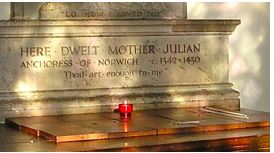 Again we return to the words of Jesus in John chapter 17 and his prayer that those who follow him "may be one as we are one, I in them and you in me, that they may become completely one, so that the world may know that you have sent me and have loved them even as you have loved me." Over and over again Julian emphasises the love of God shown in the cross, overcoming human division and sinfulness, raising her (and all who respond to God's love) into light and life and joy. God's mercy "works in us, keeping us and turning everything to good account… Our failure is dreadful, our fall shameful, our dying lamentable, yet never once does that dear eye of love and pity cease to regard us, nor his mercy fail."
That love and mercy are the foundation of our salvation and of our ultimate union with God. As Julian puts it, "Because of his great and everlasting love for mankind, God makes no distinction in the love he has for the blessed soul of Christ and that which he has for the lowliest soul to be saved… Indeed, if I understand our Lord aright, where his blessed soul is there too, in substance, are all the souls which will be saved by him". As she says repeatedly, "all will be well".
That is not to say that Julian ignores the dark side of human existence. Far from it! She knows that sin is inevitable. After the final showing she experienced two episodes of severe struggle against the forces of evil, and a serious temptation to dismiss all that she had seen as "raving". In that struggle she drew strength from the Lord's promise in the final showing, "You will not be overcome." Julian adds "This word, 'You will not be overcome' was said very distinctly and firmly to give us confidence and comfort for whatever troubles may come. He did not say, 'You will not have a rough passage, you will never be overstrained, you will never feel uncomfortable', but he did say, 'You will never be overcome.' God wants us to pay attention to these words, so as to trust him always with strong confidence, through thick and thin. For he loves us, and delights in us; so he wills that we should love and delight in him in return, and trust him with all our strength. So all will be well." And so to God, Father, Son and Holy Spirit…