St Francis, Terriers - Easter 3 (10.04.2016)
Tony Dickinson
Well, yesterday's invasion by the so-called English Defence League seems to have gone off "as well as could be expected". There were only four arrests and (according the driver of the number 48 bus) the only sign of unusual activity was the amount of horse manure in the streets around Frogmoor. Otherwise everything was back to normal.
"Everything back to normal" seems to have been what was in Peter's mind in this morning's Gospel. "I'm going fishing" was the story of his life in the days before Jesus, and here he is, back in Galilee after the resurrection, picking up the threads of that former life almost as if Jesus had never existed.
Now in what follows there are echoes of that former life for those who have a good memory for the stories about Jesus. There are little details here and there that prompt us to remember other events and to make links and maybe patterns.
There are Peter and his partners "shooting and hauling and trawling all night", to quote an old Norfolk sea-shanty, and doing so without any success. That takes us right back to their first encounter with Jesus in Luke's Gospel. And the final result was the same, too: a net so full of fish that it is nearly bursting and in danger of sinking the boat.
There's Peter leaping over the side of the boat to go and meet Jesus – that brings back memories, too; of his disastrous attempt to walk on water in the fourteenth chapter of Matthew's Gospel.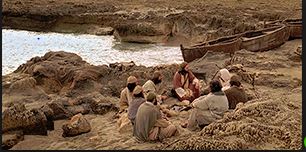 There's the meal of bread and fish beside the lake – but for rather fewer than five thousand mouths this time, and no miraculous multiplication of meagre resources.
And there's the charcoal fire – which might have set alarm bells ringing for Peter, because the last time he had seen one of those it wasn't in the setting of a lakeside breakfast barbie, but of a chilly spring evening in the courtyard of the High Priest's house. Peter might just have had an inkling that this morning was not going to turn out well, as he confronts his past.
That past, flagged up by all those subtle allusions in the story, was not entirely a happy one. Peter's words to Jesus at the end of that earlier story about a miraculous catch of fish, "Go away from me, Lord, for I am a sinful man!" – those words still apply, if possible even more strongly, given what happened around the charcoal fire in the High Priest's courtyard, and many of the scholars who have commented on this passage have had fun with the three-fold affirmation which the risen Christ extracts from deeply embarrassed and ashamed Peter, hurt because "Jesus said to him the third time, "Do you love me"?
However, I have a sneaking feeling that they are missing the point in focusing on a three-fold affirmation, wiping out Peter's three-fold denial in the High Priest's courtyard. There is more to this than meets the English eye.
At the supper that he shared with his disciples on the night of his arrest, Jesus, so John tells us, talked a lot about love. Now, there are four Greek words for which the English translation is "love". There's ερως, the word for sexual attraction, the word from which we get the English word "erotic". There's φιλια, which is the word for friendship. There's στοργη, which is the word for the love between parents and children, love within the family. And there's αγαπη, which is the word for the deep, self-giving, creative love which is the nature of God. That's the word which Jesus uses when he talks to his disciples about his love for them, about God's love for them, and about the love they are to have for one another. Αγαπη is the word that the risen Christ uses when he asks Peter, the first time, and the second time, "Do you love me?" In other words, "Is your love for me as strong and deep as mine is for you?" And Peter flunks it. When he answers that question, he doesn't talk in terms of αγαπη. He talks in terms of φιλια, "friendship". So what he is saying is "I'm your friend." There isn't the same depth and strength of relationship. And what hurts Peter is that when Christ asks him the third question, he doesn't use αγαπη any more. He follows Peter and switches to φιλια. It's as if the risen Lord has asked Peter "Do you love me THIS much?" and Peter has answered "Yes, I love you this much." And then the Lord asks Peter "Really, Simon? Do you love me this much?" That's what hurt.
But the curious thing is that this mismatch doesn't affect Peter's role in the new community, the community renewed by the resurrection of Jesus. Peter may indeed not love Jesus THIS much, but the risen Christ's love for him remains unbroken. Peter may not love Jesus THIS much, but he still has a role to play, and that role is twofold: to care for the flock that the risen Christ entrusts to him, and to follow; to follow even though following will lead Peter into difficult and dangerous places, where he will "stretch out [his] hands, and someone else will fasten a belt around [him] and take [him] where [he] does not wish to go".
Today's gospel is a reminder that for those who have encountered the risen Christ everything is most definitely not back to normal. Instead normality has acquired a new dimension, in which relationships of power and authority are turned on their head, in which failure and suffering and death do not have the last word, in which, as we heard in our first reading, those who go in search of God's people to bind them and bring them to judgement are themselves taken captive, caught in the net of God's love. However hard we may try to live as if Jesus had never existed, we cannot avoid that encounter with the risen Christ, who summons each one of us to follow him, wherever that following may take us.
Where it will take us, in the end, is that state of soul which John the Seer described in our second reading, the state in which we join, not only the angels and the elders and the four living creatures, but "every creature in heaven and on earth and under the earth and in the sea, and all that is in them", as they sing, "'To the one seated on the throne and to the Lamb be blessing and honour and glory and might for ever and ever!'"
And with the four living creatures we say, 'Amen!' And with the elders we fall down and worship.
Alleluia. Christ is risen!