St Francis, Terriers - Easter 5 (24.04.2016)
Tony Dickinson
If you've ever shared the life of a religious community during Eastertide, the odds are that, at some point during the day, you will have heard one of the sisters or brothers chant the words "This is the day that the Lord has made, alleluia!": to which everyone else responds: "We will rejoice and be glad in it, alleluia!"
Sometimes those words flow easily off the tongue. At other times they are uttered, for whatever reason, with a heavy heart or through gritted teeth. This Eastertide has been a bit like that for many folk at St Francis. We've had a number of people ill, some of them quite seriously. We've had a number of close bereavements. I've had two apologies for today's Annual Church Meeting from people who have to be elsewhere for that very reason.
That thought leads me to wonder how many people got out of bed this morning with an extra spring in their step because today is the day of the Church Meeting, and how many groaned inwardly when they remembered. It is, to be honest, not the easiest of days. It's quite suspenseful – especially for the chairman. Will we get the necessary number of nominations? If we don't, how hard will arms have to be twisted? Will the annual report and the accounts be approved without a hitch? Will we get round this or that sticky patch safely? Or will somebody ask one of those left-field questions which throw everything into confusion?
Well, in an hour or so we shall find out, but the important thing is not that the meeting goes off smoothly, but that it happens. It's important because this is the day in the year when we run the rule over ourselves and our church life and see how both are shaping up. Sometimes it's good news. Sometimes it isn't. And sometimes the vicar feels rather as St Peter must have felt in our first reading when some of the stricter members of the Christian community in Jerusalem hauled him over the coals for "going to uncircumcised men and eating with them". Wouldn't that time have been better spent with the Jewish core of believers? And didn't Law and precedent forbid eating with "Gentile sinners"? In St Luke's Gospel even Jesus has no contact with non-Jews.
Well, yes; the rules did forbid Jews from sharing with Gentiles. But when Peter broke the rules something amazing happened. "As I began to speak," he said "the Holy Spirit fell on them just as it had upon us at the beginning." God's gift breaks down barriers – and it can be given (and received) anywhere.
We've been agonising for much of the past year about where this church is going. We've got the building back into shape, but what about the congregation? Where's the growth? Where's the life? Where, especially, is the next generation, the people who will take on leadership from us oldies? Now, after a week in which even republicans have been praising to the skies the leadership qualities of a woman who has just turned ninety, it might not be a terribly good idea to underestimate the potential of mature wisdom allied with deep Christian faith. However, there is an understandable anxiety about where we are and where we are heading. Various remedies have been suggested, but they have one serious draw-back. They all centre on this building. The model of mission that some have in mind, it seems, is not so much "out-reach" as "in-drag".
That is not to discount the power of this building to lift hearts and to be a place of peace and prayer and a place for meeting, and that it is those things is obvious from the number of times I come in here during the week to find a candle or two burning on the pricket stand. I'm delighted that the "Knit and natter" group which Liz and Sarah are running on Wednesdays in conjunction with the Hospice seems to be taking off. I'm also looking forward with considerable anticipation (as I hope all of you are) to next month's Open Day, and the opportunities that that will bring for meeting people who would not otherwise pass through the church doors.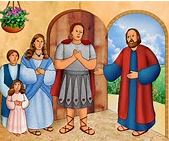 But Peter did not meet Cornelius and his household in the temple, nor even in the synagogue in Caesarea. He went where they were. He spent time on their territory. It's a great argument for visiting – I nearly said "pastoral visiting", but that isn't what Peter is doing. He is sharing his faith with Cornelius and his household, talking about the things of God, bringing that message by which the world will be saved, not imposing himself on them, but responding to their need.
The story which Peter has to tell those "circumcised believers in Jerusalem" is a powerful reminder that the early church was not a building. Nor was it yet an institution or even a grouping based on common practices and beliefs. In those first years the church was a living organism communicating the Gospel, as Peter did, through relationships. In the writings of St Paul we find a metaphor for this organic network of relationships: "the body of Christ"; and at the heart of the body, providing its energy, is the Holy Spirit, which fell on Cornelius and his household as it had fallen on the disciples of the risen Christ "at the beginning".
Those members of the congregation who follow the "Friends of St Francis" Facebook page may have seen last week's daily meditations from the Centre for Action and Contemplation in New Mexico, which have all been about Christian community. One of them has a brilliant description of the earliest communities as "the audiovisual aids... giving credibility to… statements about new life". This is how Peter answers his critics in Jerusalem. He tells them, in effect, "Look at these people. They're different. They've been changed… just as we were." To find out how that transformation works out in practice we have to turn to this morning's gospel reading, and Jesus saying, "By this everyone will know that you are my disciples, if you have love for one another."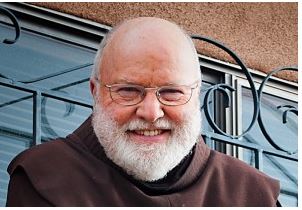 Commenting on this verse, the Franciscan writer Richard Rohr says "For Jesus, such teachings as forgiveness, healing, and justice are the clear evidence of a shared life. When we do not see this happening, religion is "all in the head." Peacemaking, forgiveness, and reconciliation are not some kind of ticket to heaven later. They are the price of peoplehood—the signature of heaven—now." So today, amid the reports and the arm-twisting and the questions from left-field, let us try to keep focused on that "peoplehood" as we seek to answer these two questions:
How can we best glorify God through the love which we have for one another – and for our neighbours? And who are the people who will encourage us to grow in that love if we elect them to the Church Council?