St Francis, Terriers - Easter Sunday (27.03.2016) 10:00
Tony Dickinson
How did Mary know it was Jesus? She was crying so much, she couldn't see him clearly. She didn't recognise his voice when he asked her why she was crying. And anyway, she wasn't expecting to find him alive. She had watched him die and she had looked on as he was buried. What made the difference?
He called her by name.
He called her by name and immediately she knew who it was who was talking to her. She reconnected.
But things were different. We can see that from the way St John tells us what happened. Mary of Magdala was so happy; she wanted to hold on to Jesus. But he wouldn't let her. Things weren't quite the same as they had been before. Death couldn't hold him prisoner, but neither could his former life. He was on his way, heading back to where he had come from. This is what he meant when he told her to tell his disciples, "I am ascending to my Father and your Father, to my God and your God." Things had changed for Jesus: and because they had changed for Jesus they had changed for everyone, for his friends, his followers, those who loved him.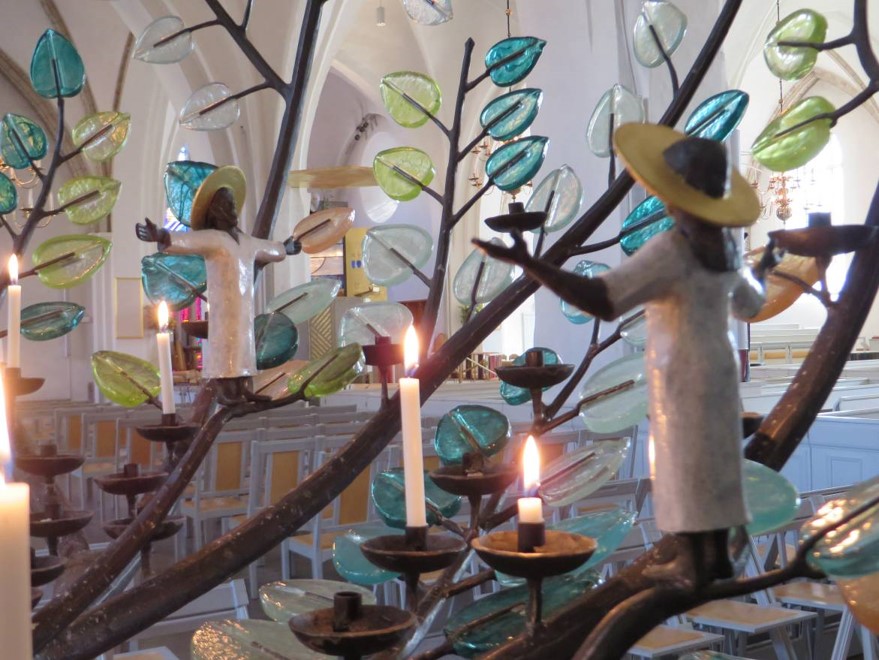 Because he had loved his friends right to the end, because he had loved them so much that he gave up his life for them, even though they had abandoned him, even though one of them had betrayed him and one had denied that he knew him – because of all that, and despite all of that, they could now draw near to God in the same way that he had. God was now "their Father" as well as his Father. God was now "their God", as well as his God.
That's true for us as well. Because Jesus died and was raised, we can approach God with the same confident trust that Jesus had. We can approach him knowing that he loves us – and that he loves us enough to die for us, to give up his life, so that we might have life, and have it richly, abundantly. He loves us even when we are foolish, or frightened, or cruel, or downright nasty.
God doesn't love us because we are good, but because he is good, because he sees in each one of us the person he made us to be, the sister, the brother for whom his Son died, all the children whom God our Father calls by name as Jesus called Mary by name.
This morning he is calling Joshua by name. Many years ago a child's baptism began with a request from the minister to the parents and godparents: "Name this child". Partly that was a very practical request. In the days before Facebook and e-mail; even before the "Births" column in the "Bucks Free Press" and in the days when children were baptised much sooner after birth than they are today (usually when they were about a week old) – in those days the baptism service was the time when all the family and friends, and the local church community could get together to learn the new baby's name and to celebrate her, or his, safe arrival.
That request was very practical, but it was also very important. The family weren't just naming their baby in order to connect him or her with the rest of the family. They were naming him, or her, in order to connect her or him with God, in order that their child might enter into the life of God as she or he followed the way of Jesus. That is what we are doing today with Joshua. We are naming Joshua before God. We are making him part of the death and resurrection of Jesus. And we are witnessing how God calls Joshua by name as Jesus called Mary of Magdala.
Now there is one thing that happens when God calls us by name. What happened when Jesus called Mary? He told her not to do one thing, "Do not hold on to me": but he told her to do two things "Go to my brothers… and say to them..." Go and tell them what has happened. That's his message to Joshua today – and to each one of us. Jesus calls us by name and invites us to go to our families, our friends, our neighbours, and to share with them the same truth that Mary did:
"Alleluia. Christ is risen!"