Sermons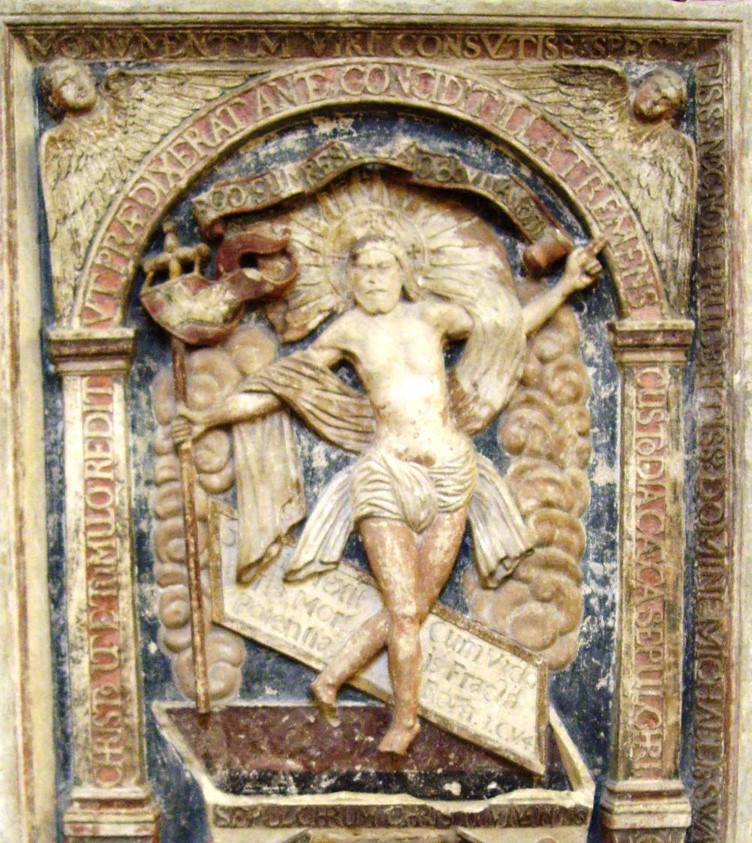 February Sermons
Lent 2 (25.02.2018) Tony Dickinson
Whoever told you it was going to be easy? No riding off into the sunset here. Not at all. Here's Jesus telling the crowd, and his disciples, "If any want to become my followers, let them deny themselves and take up their cross and follow me." Or, as one parish in the West Midlands responded when their diocese asked for their mission statement: "Follow Jesus and die." That seems like an appropriate note for me to sign off after twenty-three years here. I'm not, I hasten to add, expecting to be gunned down by right-wing extremists on the streets of Genoa – though that is a possibility, given the current febrile state of Italian politics. What I am expecting is that this unlooked-for "retirement ministry" will strip away the false security which has tended to go with being "a Brit abroad".
More....
Lent 1 (18.02.2018 Tony Dickinson
We're supposedly heading off with Jesus into the desert this week, so why do our readings focus so sharply on water? In our first reading we heard how, after nearly six months, Noah makes landfall on an earth scoured clean by the great flood, a world where all life has been blotted out except for his family and the creatures they saved in the ark. They offer a sacrifice of thanksgiving to God, and God in return establishes a new covenant with humanity. In our second reading the story of Noah is reprised as a prefiguring of baptism. And in our Gospel, we hear again words that we first heard six weeks ago when we celebrated the feast of the Lord's Baptism. Jesus plunges into the water of the River Jordan, as he receives the baptism of John, before being driven out by the Spirit into the wilderness.
More....
1 before Lent (11.02.2018) Tony Dickinson
Right, guys. This is it. This is the last flash of light and glory, a little foretaste of Easter, before we hit the wilderness trail and the road that leads Jesus inexorably to the cross. But what a flash of light it is! Jesus's clothes, says St Mark, "became dazzling white, such as no one on earth could bleach them." Proctor and Gamble, Unilever, Ecover – eat your heart out… Not, of course, that Mark is in the business of advertising washing powder. He is showing what happens when the veil which limits our ability to see and understand is taken away and ultimate reality reveals itself.
More....
2 before Lent (04.02.2018) Tony Dickinson
Here's a question for you. It's probably the biggest question you've ever been asked, a question that has baffled the wisest men (and women) down the ages. And here's a clue [hazelnut]. The question is this: "Why is there something rather than nothing?" Why, in other words, does the universe exist? Why we exist? Why is there something rather than nothing? Scientists can tell us how the universe exists. They can tell us about the "Big Bang" thirteen billion years ago when everything began. They can tell us how, over thousands and millions of year, stars and planets were formed. They can track the first beginnings of life on this planet. They can tell us how very BIG things and very small things came into being and what they do. But what they can't tell us is why all these wonders are there to be explored in the first place.
More....
January Sermons
Epiphany 4 (28.01.2018) Tony Dickinson
So, here we are at the end of Christmastide. The angel left long since, and today we shall see off the shepherds, the wise men and the Holy Family. Even the ox and ass will vacate the stable. There will, at last, be plenty of room at the inn. But where is everybody? The shepherds, presumably, are back in the fields, "keeping watch over their flock by night". The wise men have paid attention to the warning given in a dream and "left for their own country by another road." And Mary and Joseph have taken the baby and travelled the six miles to the temple in Jerusalem, to offer there the sacrifice that had to be made for every first-born male – a routine ritual offering laid down in the Law of Moses as a reminder of the death of the first-born in Egypt. "Every first-born male shall be designated as holy to the Lord." And that's where it gets really interesting.
More....
Epiphany 3 (21.01.2018) Tony Dickinson
Today's reading show us the beginning – well, almost: the end – well, very nearly: and something, or rather someone, in the middle holding the two together. There's something else, too, linking all three readings, a common thread of celebration. There's the celebration of victory in our first reading, the celebration of a marriage in our Gospel, and, overlapping the two, our reading from Revelation begins with the hosts of heaven proclaiming the victory of God in words which are familiar to anyone who loves English choral music and segues into the angel's invitation to the marriage supper of the Lamb. It's a rich and heady mix of echoes and resonances, and one which draws us in as we reach the mid-point of this Week of Prayer for Christian Unity.
More....
Epiphany 2 (14.01.2018) Tony Dickinson
Our readings today are about hearing and seeing: the child Samuel hearing God's call; John the Seer watching as the Lamb opens the scroll; Philip and Nathanael hearing the call to follow Jesus. They're also about preconceptions and misconceptions. "God doesn't call people these days, so it must be Eli." "No one can undo the seals and read the scroll." "Can anything good come out of Nazareth?"
More....
Epiphany 1 (07.01.2018) Tony Dickinson
Can anyone tell me what you get when you cross a sheep with a kangaroo? [a woolly jumper] What do you get if you cross a teddy bear with a skunk? [Winnie the Phew] What do you get if you cross a sheepdog and a buttercup? [a cauliflower] I'm told that somebody once thought about crossing a walrus, a hamster and an owl – just for the joy of calling it Walthamstow. Now here's a more serious question. What do you get if you put together water and the Holy Spirit? Here's a clue: it happens in each of today's readings.
More....
Epiphany of Our Lord (06.01.2018) Tony Dickinson
"A cold coming they had of it, at this time of the year; just, the worst time of the year, to take a journey, and specially a long journey, in. The ways deep, the weather sharp, the days short, the sun farthest off, the very dead of winter." Those words, which inspired one of T.S. Eliot's best-known poems, were spoken by Lancelot Andrewes preaching before King James I at Whitehall – not at the Epiphany but on Christmas Day nearly four centuries ago. One of the greatest preachers and one of the greatest biblical scholars of his age expounding two verses from this morning's gospel before one of the most learned men ever to sit on the throne of England and Scotland.
More....
December Sermons
Christmas Eve (24.12.2017) Tony Dickinson
"In the beginning was the…" what, precisely? Well, "word", of course. That's what our reading said this evening. It's what the King James Version says, too, and pretty well every other translation of John's Gospel into English. But what John writes means much more than "word". It's what Jesus uses when a boss in one of his parables tells his staff to hand over their accounts to be audited. It's what St Paul uses where we would use "speech" or "talk" or "message". For Matthew, Mark and Luke it covers ideas of "saying" or "story", sometimes even "news". For the ancient philosophers it might mean "reason" or "thought", the power that makes human beings, allegedly, different from other animals. Those are many different possibilities, many different shades of meaning.
More....
Advent 4 (24.12.2017) Tony Dickinson
Today, thanks to a quirk of the Church's year, we're participating in a medical miracle – a fourteen-hour pregnancy. We've just heard St Luke's account of the angel's message to Mary. Around midnight tonight we shall be celebrating the birth which that message foretold. It's a reminder that there are times when eternity and history collide, so that past, present and future crash into one another, and geography runs riot. Terriers becomes Nazareth, becomes Bethlehem. As Ford Prefect warned Arthur Dent, "Reality is on the blink again".
More....
Advent 3 (17.12.2017) Tony Dickinson
On Friday I was "up East" for a funeral, in East Ham, to be precise, saying my farewells, with a couple of hundred other people, to Francis Bassett. Until his untimely death Francis had been the Administrative Secretary of the Council for Christian Unity at Church House in Westminster. He was one of the most self-effacing of men. What Francis would have made of the half-page obituary by one of his colleagues which appeared in Friday's "Church Times" I can't imagine. Probably a raised eyebrow and a murmured "Shurely shome mishtake…", to borrow the old running gag from "Private Eye".
More....
Advent 2 (10.12.2017) Tony Dickinson
It's going to be all right! That's what our two readings from the Bible are saying today. However rough, however difficult things are, it's going to be all right! But (you're probably thinking) it doesn't look like that. Wherever we look, it's all an enormous mess. Did you see those pictures from California on the TV News? All those trees, all those houses on fire. Have you heard what's been happening in Israel and Palestine? People are getting hurt. The world is a frightening place – very frightening sometimes. But we have been promised: it's going to be all right. Yes, things do look dreadful. Yes, we can see all kinds of nasty things lurking in the shadows. The question we have to ask, though, is "what is the lens through which we're looking at them?"
More....
Advent 1 (03.12.2017) Tony Dickinson
Apparently there was an outbreak of Meghanmania in Nottingham the other day – that's Meghan with an "h", by the way: nothing to do with either the organist's daughter or the churchwarden's granddaughter. The outbreak was so severe that even the normally republican "Guardian" was carried away and put a picture of her on the front page. It almost made up for some of the viciously racist comments about Prince Harry's best-beloved that have been appearing on-line in some newspapers' comments section. And the joy and excitement at this royal engagement is understandable. The rest of the news is so unrelentingly grim.
More....
November Sermons
Christ the King (26.11.2017) Tony Dickinson
My Cambridge-based colleague Malcolm Guite is a college chaplain, a scholar, a folk-singer and a poet. Five years ago he published a set of sonnets, "Sounding the Seasons", based on the Christian year. Here, on this last Sunday of that year, is the sonnet for "Christ the King", which rounds off the collection. "Our King is calling from the hungry furrows Whilst we are cruising through the aisles of plenty, Our hoardings screen us from the man of sorrows, Our soundtracks drown his murmur: 'I am thirsty'.
More....
2 before Advent (19.11.2017) Tony Dickinson
During the past three weeks or so, Shelina and her parents, and Jessica's family, have been exploring the words and the symbols that are important in this morning's service. We looked at the cross, and the oil, and the scallop shell, and thought about the different levels of meaning they carry for Christians. We read the words of the prayers and we thought about the stories from the Bible that they bring to mind, from the beginning of the very first book, the book of Genesis, to the closing chapters of the last book, the book of Revelation. And we set all this within in a frame made up of the two elements that are central to what we are doing today: the water in the jug which will become the waters of baptism, the waters that speak to us of God's creative, life-giving, liberating power and the fire which lights the Easter candle, the light that proclaims a new life, the life revealed in the resurrection of Jesus.
More....
3 before Advent (Remembrance - 12.11.2017)
Tony Dickinson
" Wovon man nicht sprechen kann, darüber muss man schweigen." (Whereof one cannot speak, thereof one must be silent.) Those are the closing words of one of the Ph.D. thesis of one of the greatest philosophers of the last century, Ludwig Wittgenstein. Much of it was written while he was a soldier in the Austrian army on front-line service against the Russians, and later the Italians, between 1916 and 1918. His words have given rise to a great deal of debate. Some have seen them as a denial that philosophy has anything to do with what cannot be observed or measured, but in view of the circumstances in which the book was written – and the impact of the war on Wittgenstein's family – I'm inclined to wonder whether he was speaking out of deep personal experience.
More....
All Saints Sunday (05.11.2017) Tony Dickinson
How many saints do you know? I don't mean "How many names can you reel off from a list like the one in the front of the big black Prayer Books?" I mean "How many people have you met whose lives have shone with the light of God's love?" That's what a saint is. Not a person who lived far away and long ago – and certainly not someone with a great big brass halo perched on top of their head – but someone we might pass in the street, or at the shops, or at work, or at the doctor's surgery, without recognising them.
More....
October Sermons
Last before Trinity (29.10.2017) Tony Dickinson
Earlier this year, wearing my European hat, I was entertaining a German colleague to tea at the vicarage while we talked about a possible joint project between the diocese of Oxford and his church, one of the regional churches of the Protestant Church in Germany (EKD to the fans). "Oh by the way," he said, "I've brought you a small present." Then he reached his hand into his briefcase and pulled out a toy in a cardboard box. My eyes lit up, because I knew that this wasn't an ordinary toy.
More....
Trinity 19 (22.10.2017) Tony Dickinson
Happy birthday, Myla-Rose! You've just completed your first year of life and today you're about to begin a whole new life. So here's a birthday puzzle for you. If the emperor got his taxes because his picture was on the coins that people used to pay them, what does God get from you? What is it that you have that has God's picture on it? Do you know? Does anyone else know?
More....
Dedication Festival (8.10.2017) Tony Dickinson
Last Sunday Nigel Spoor reminded us of the story about St Francis, praying alone in the half-derelict church of San Damiano at the foot of the hill on which Assisi perches and hearing the voice of Jesus from the crucifix above the high altar. "Francis, go and rebuild my church, which as you see is falling into ruin."
More....
September Sermons
Trinity 13 (10.09.2017) Tony Dickinson
Well, Mercedes, this is the day you've been waiting for, the day your mum longed to see. This is the day when you officially "put on the Lord Jesus Christ" and receive, in baptism, the gift of his Spirit. It's a day of great celebration – for Jon-Pierre as well as for you – But one that for many of us is tinged with the sadness that your mum isn't physically here with us to share it. I don't doubt, though, that somewhere in eternity she is bubbling over with the joy of watching her youngest daughter and her latest grandson "put on the armour of Christ", in St Paul's words, and take their place in that battle for truth and hope and justice to which she gave so much of her own considerable energy..
More....
Trinity 12 (03.09.2017) Tony Dickinson
It is said that towards the end of his long life St John the Evangelist became unable to walk; so members of the church in Ephesus, where he lived, would lift him onto a stretcher and carry him round the city. As they carried him, he would bless the people in the street, repeating over and over again the words: "Little children, love one another!" That was his message. That is St Paul's message in today's first reading: "Love one another with mutual affection." In the words that follow he spells out what that means in practice. Don't do anything – anything! – that harms a fellow human being.
More....
August Sermons
Trinity 11 (27.08.2017) Tony Dickinson
St Paul's letter to the Christian communities in Rome is one of those books that start revolutions. It was after reading words from this letter that Augustine of Hippo finally came to the decision to be baptised. It was Karl Barth's re-reading of this letter in the light of the First World War that put a bomb under the way that Europeans had thought about God for the previous two centuries. And, five hundred years ago, it was St Paul's teaching in this letter that freed Martin Luther from his agonising spiritual struggles and set in motion the great religious and political upheaval that we call the Reformation.
More....
Trinity 10 (20.08.2017) Tonu Dickinson
One of the things we learn about God as we study his word to us in Scripture and as we look at how he has operated in human lives down the centuries is that God has appalling taste in people. God wants to free his people from slavery in Egypt; who does he choose to do the job? A fugitive murderer with a stammer. God wants to bring his people back to their own land from exile in a far-off country; who does he choose? An Iranian fire-worshipper.
More....
Trinity 9 (13.08.2017) Tony Dickinson
My father was one of the 300,000 who escaped from the beaches of Dunkirk in 1940. He would talk about his time with the BEF during the "Phoney War". He would speak about the three years he spent on Salisbury Plain. He would tell a few stories about the Normandy landings and the months that followed. But I don't think I ever, ever heard him talk about the evacuation. On Friday night we went, as a family, to see Christopher Nolan's magnificent film, and I began to understand why.
More....
July Sermons
Trinity 6 (23.07.2017) Tony Dickinson
Zara Elizabeth June, I have a special message for you this morning. It's a special message from God, so I hope that your mum and dad are taking careful note of what it says. It comes from near the end of today's first reading from the prophecies of Isaiah. The message is this: "Do not fear, or be afraid."
More....
Trinity 5 (16.7.2017) Tony Dickinson
We're sometimes told by the "cultured despisers of religion" that Jesus has no sense of humour, or that there are no jokes in the Bible. Well, today's readings knock that idea firmly on the head. That may not be entirely true of St Paul's words to the Christian communities in Rome, but it certainly is true of the prophecy and the parable we have just heard. How can the idea that God's fulfilment of his promises to his people causes so much joy that even the landscape bursts into song and the trees give a round of applause not make us smile? "The hills are alive with the sound of music?" You bet!
More....
Trinity 4 (09.07.2017) Tony Dickinson
Yesterday I read a disturbing reflection from Jem Bloomfield, a university lecturer who is also in training as a lay minister. It's about how the majority of the young people with whom he is in touch regard Christianity. And it doesn't make for comfortable reading. "Oppressive", "discriminatory", "sex-obsessed" – that is how they see Christians. For them the Gospel is not "good news" – and it's hard to see how it can be. As Jem Bloomfield writes, "a lot of young people seem to view Christianity as a rather mucky-minded business, full of people forever going on about sex and who's having it with whom… This goes against a common stereotype: that young people are continually thinking about sex, and the Church attempts to direct their thoughts towards higher things. In the general attitudes I can discern among my students, it is the other way around: many of them see churches as unhealthily sex-focused organizations."
More....
Trinity 3 (02.07.2017) Tony Dickinson
That picture on the screen is not a reminder that by being in church we're missing the omnibus edition of "The Archers". It's a picture that links us to what was going on at the time of today's first reading. Those three warriors, with their spears and their bows and arrows, are soldiers in the army of the King of Babylon, like the soldiers who captured Jerusalem not long after the row between the two prophets that we heard about in that reading. Prophets get a mention in both our readings today. Jeremiah was very cross about people who claimed to be prophets but who weren't bringing a message from God. And Jesus encouraged those who followed him to welcome prophets. What sort of people were they talking about? What do prophets actually do?
More....
June Sermons
Trinity 2 (25.06.2017) Tony Dickinson
Today's a very special day for Alexia and her family, though for Lexi, I suspect, the party later may be more on her mind than what is happening now in this strange building with lots of strange people around her. Possibly her big sisters, Sophie and Lottie, will take more in from this part of the day. Each of them has an important part to play in their kid sister's baptism, and I hope that as they play their part, and as they talk about it all afterwards, they will find a deeper understanding of what happened to them (also in this building) a few years ago, so that they are able to explain to Lexi the meaning of all that is done to her today as she begins her journey in the steps of Jesus of Nazareth.
More....
Trinity 1 (18.06.2017) Tony Dickinson
Healing was central to Jesus's proclamation of the good news of the kingdom. It was central to the task of the apostles. It is central to the Church's task today. We too are called and commissioned by the Lord to share in the work he gave to those who followed him two thousand years ago: "Heal the sick, raise the dead, cleanse the lepers, cast out demons." Show today the compassion of Jesus for those who are "harassed and helpless, like sheep without a shepherd." The need has never been more urgent. It is not only individuals, it is communities and nations which are in desperate need of healing in these days. Demons that we imagined had been cast out for ever have in recent years returned to haunt us: and no one appears to know what to do.
More....
Trinity Sunday (11.06.2017) Tony Dickinson
If you were watching BBC 4 late at night two or three years ago, you may have come across a series called "Old Jews telling Jokes". The channel also ran a series of "Vicars telling Jokes", but they weren't half as funny! This story is about a vicar and an elderly Jew. He was crossing a busy road outside the local church when a car came speeding round the corner and knocked him down. The parish priest was in the church and heard the sound of the accident. He came rushing out, pausing only to pick up the oil for the sick, and darted into the middle of the road, without any thought for his own safety. The priest knelt down by the old man and cradled him in his arms. He could see that the old man was in a bad way, so he took out the oil and asked "Do you believe in the Father and in the Son and in the Holy Spirit?" The old Jew's eyes rolled heavenwards. "Oy, oy, oy!" he gasped. "Here I am dying and he's asking me riddles!"
More....
Pentecost (04.06.2017) Tony Dickinson
This time last Sunday I was in a coach on my way from Berlin to Wittenberg. Hugh and I were travelling with the congregation of the Protestant church in Zehlendorf to join around 100,000 worshippers (that's about the total population of High Wycombe) at the festal service which ended this year's Kirchentag and launched the "Reformation Summer" in the place where it all started five hundred years ago.
More....
May Sermons
Easter 5 (14.05.2017) Tony Dickinson
Eastertide in church is a strange season – at least as far as the readings we hear on Sunday are concerned. We're just beginning the fifth week of a seven-week party in celebration of Jesus resurrection. So what's the focus of our readings? The first reading takes us weeks, maybe even months, beyond Pentecost: the Gospel whips us back to the Last Supper: and sandwiched between them there is a passage which says nothing much about either death or resurrection.
More....
Easter 4 (07.05.2017) Tony Dickinson
The picture on the screen is a bit low-res – and the cross and candles don't help – but I hope you can see what it is. Any offers? It's a mosaic of Jesus the good shepherd, sitting among his flock, in a very ancient-world landscape. Does anyone know where we could find that picture? Where is it? It's in Genoa. It's the mosaic above the high altar in the Church of the Holy Ghost. It was badly damaged when the church was bombed during the Second World War, but they managed to put it back together, in the same way that Stuart Frain put together our crucifix above the pulpit. You wouldn't know from looking at either of them that they had been smashed to pieces.
More....
April Sermons
Easter 3 (30.04.2017) Tony Dickinson
When we start reading the Bible seriously, and particularly the New Testament, one of the things we discover is how very differently the first Christians did things. Before we fixed a date for Charlie's baptism, Jade and Max and I met three times to talk through what it all meant, and to walk through this morning's service. We did the same four years ago when Albie was christened. It's all very different from baptism as described in our first reading this morning. No careful preparation there.
More....
Easter 2 (23.04.2017) Tony Dickinson
In this morning's Gospel the risen Jesus repeats the same greeting three times. Twice when he appears to the disciples minus Thomas, the third time when Thomas is present. We shall use the same greeting later in this service. "Peace be with you." That's a greeting the disciples needed to hear. So do we, twenty centuries on. Both for them and for us the world is a frightening place. Jerusalem at Passover was not a good time or place to be a follower of Jesus of Nazareth.
More....
Easter Day (16.04.2017) Tony Dickinson
There's a moment of crisis in "The Hitch-hiker's Guide to the Galaxy" when, among other weird happenings, the earth starts moving upwards and the sky starts moving sideways and folding up. Everyone is beginning to panic, except for Marvin the paranoid android. He simply looks at the chaos that is developing all round them and remarks, "Oh dear. I think you'll find reality is on the blink again." There's a touch of that in our Gospel this morning – or at least a sense that reality is not so much "on the blink" as being broken into by another, deeper reality.
More....
Palm Sunday (09.04.2017) Tony Dickinson
"Enough already!" More than enough of death and destruction in these last days. More than enough of human suffering, whether it's in Syria, or Somalia, Stockholm or South America, whether it's caused by natural disaster or by human violence. Dear God, please make it stop! But God won't make it stop. In a sense God can't make it stop. God can't make it stop because like any loving human parent, God gives his children their freedom – and does so in the agonising knowledge that that freedom can be used for good or for ill. What God can do, what God does, is to enter his own creation in a human life and model what it means to be truly human.
More....
Lent 5 (2.4.2017) Tony Dickinson
This morning in Genoa, nine people are being confirmed by Bishop David Hamid, the Suffragan Bishop in Europe. Given the time difference between Wycombe and Genoa it may even be happening at this moment. Of those nine, for whom we shall pray later in this service, eight are drawn from the Nigerian migrant community which worships at the Church of the Holy Ghost. Bishop David will lay his hands on them and pray, in those familiar words, "Confirm, O Lord, your servant… with your Holy Spirit".
More....
March Sermons


Mothering Sunday (26.03.2017) Tony Dickinson
Who has assemblies at their school? Whose school sings songs during assembly? How many of you sing the song about the 'Magic Penny'? Can anyone tell me what the magic penny is? Why is it magic? Because if you give it away you end up having more'. Hannah in our first reading this morning was like that.
More....
Annunciation (25.03.2017) Tony Dickinson
What we celebrate this morning has inspired some of the most beautiful art and some of the best-loved words and music in the world. Many of the carols and hymns that we sing at Christmas belong more properly to this day. Painters, sculptors, glaziers and metal-workers, poets, composers and jobbing musicians have given of their best to celebrate the story that we heard in our gospel reading from St Luke. Powerful men have, like the angel, bowed their knee before the young woman who stands at the centre of those pictures and sculptures. One English statesman of the High Middle Ages was fascinated by this story to the point of obsession. He had it carved above each entrance to the educational establishments which he founded. It features in the richly jewelled 'M' which he left to one of them, and tiny golden figures of Mary and the angel were once soldered to the crook of the staff which he carried as a bishop.
More....
Lent 3 (19.03.2017) Tony Dickinson
There has to be a very good reason for someone living in a hotter, drier country than our own to go and fetch water from the well in the middle of the day. Normally you would expect people to do that at the beginning of the day, before the sun is properly up. That is the time to fill your water-jar, to meet other people, and to catch up on all the gossip. However, you might not want to do that if you suspect that most of the gossip will be about you and the complications of your love-life. In those circumstances, sneaking out to the well during siesta-time might seem like a very good idea, even if it does expose you to the heat of the day. So it must have come as a nasty shock to find someone else there, sitting on the stone surround of the well-head: though perhaps not quite so nasty, when you realise that he is Jewish, so a stranger, not a local, and therefore very unlikely to have all your personal history at his fingertips. Also, being Jewish (and a man), he is unlikely to strike up a conversation with a Samaritan woman.
More....
Lent 2 (12.03.2017) Fr Ed Hanson
As the bookends of this sermon, I would like to use two passages from Scripture which I know will be very familiar to you. The first is the Parable of the Good Samaritan, and I will finish with the passage from Matthew which includes the phrase 'when I was a stranger and you welcomed me.' These both seem extremely à propos to a talk about the Neighbours in Need programme of the Anglican Church of the Holy Ghost in Genoa, Italy.
More....
Lent 1 (05.03.2017) Tony Dickinson
There are three tests in this morning's Gospel. They are three tests for Jesus, but they are also offer openings that can make us think 'I want some of that'. The trouble is that each of them has a serious downside, a bad effect on us, or a bad effect on others, or on both. The good news is that Jesus has the antidote, in what he says and in what he does. What he says is the answer he gives to each of the tests. What he does, we find out from other stories in the Gospels.
More....
Ash Wednesday (01.03.2017) Tony Dickinson
This morning I spent some time watching the smoke from last year's palm crosses pour up the chimney. So, it was ironic that the first of the poems to be featured at the Prayer Book Communion on Wednesdays this Lent was Malcolm Guite's sonnet 'Ash Wednesday', which begins with a lament for the damage that human beings are doing to the earth's great forests. Land is being cleared at an alarming rate by felling and fire, either for cattle-ranching or for the planting of cash crops. Such projects, we know, very quickly suffer from the law of diminishing returns and are abandoned leaving desert, or at best scrub, where once there was forest teeming with life. It is, perhaps, a powerful parable of human sinfulness, those destructive tendencies whose dark clouds so overshadowed the opening of tonight's first reading: 'The day of the Lord is coming, it is near'"a day of darkness and gloom, a day of clouds and thick darkness!'
More....
February Sermons
Sunday next before Lent (26.02.2017) Tony Dickinson
Last week, I mentioned my brief encounter with the actor Mark Rylance in a London street. On Wednesday it happened again '" another encounter in London with someone in the public eye. This time it was Rowan Williams, Lord Williams of Oystermouth, Archbishop Rowan as was. It wasn't in the street, this time. It was in Church House Bookshop. He came in just as I was signing out the Church bookstall and he was happily browsing through the display of books on the table by the door. So I didn't ask him 'Well, Lord Williams, what's it all about?' Though I suspect that, unlike Lord Russell, he might have put forward a few fruitful suggestions'¦
More....
2 before Lent (19.02.2017) Tony Dickinson
People used to say that if you spent enough time at Piccadilly Circus you would meet everyone you had ever known. One of the great things about taking a trip up to London (and not just Piccadilly) is that you never know who you will run across in the street, or on the tube, or in a railway station. Sometimes it's a friend you haven't seen for ages. Sometimes it's somebody in he public eye; actors, politicians, writers, media people and the like. Last Wednesday, for instance, I'd just left Marylebone and was heading for Baker Street, when I realised that the man in the centre of a little knot of people walking toward me was the actor Mark Rylance.
More....
3 before Lent (12.02.2017)
It has been a grim week for news. Locally we share with the people of St Augustine's in their shock and sorrow at the sudden death of Monsignor Paul Donovan on Wednesday. Nationally we observe the dangerous combination of a headstrong government and an inept and fragmented opposition. When was the last time that an Archbishop of Canterbury provided the most effective opposition to an overweening ruler over a major issue of public policy? My guess would be 1688, when Archbishop Sancroft and six other bishops faced down King James II. Internationally we watch developments in the USA, in the Middle East, the Far East and our own continent with mounting anxiety as 'Government of the Twittersphere, by the Twittersphere, for the Twittersphere' seems to be replacing the normal checks and balances of American democracy, and as the rule of law is increasingly under attack.
More....
4 before Lent (05.02.2017) Tony Dickinson
Jesus told those who follow him "and that includes us, unless we're here under false pretences" Jesus told his followers, 'You are the light of the world.' The big question is what kind of light? In Jesus's day that wasn't a question you really needed to ask. There were indoor lights, filled with oil. And there were outdoor lights, pieces of wood with one end dipped in tar that rich people used to find their way round the city in the darkness '" and sometimes fixed in holders outside their front door.
More....
January Sermons
Presentation of Christ (29.01.2017) Tony Dickinson
This is not what was expected. Nothing like. Malachi offers us a vision of the Lord coming to his temple to purify his people; coming "like a refiner's fire and like fuller's soap." This, the prophet's language suggests, this will be harder than the hardest Brexit. The Lord will sit as refiner and purifier, and he will keep on doing it until the people gets it right! 'Until they present offerings to the Lord in righteousness.' We're expecting a full-on revelation of God, right?
More....
Epiphany 3 (22.01.2017) Tony Dickinson
'Light has dawned.' That is the affirmation with which Matthew begins his account of how Jesus began to proclaim the good news of the kingdom. 'Light has dawned' in a ministry of teaching and preaching and healing. 'Light has dawned', but to see that light and to walk in that light required the change of mindset that we call 'repentance' and load with all kinds of guilt and angst and misery. But repentance isn't about guilt and angst and misery. Repentance is about changing the way we understand the world, and ourselves, and God. It is about opening our eyes to see that great light, and having the courage to get up out of our seat 'in the region and shadow of death' and step forward into the light of God's love.
More....
Epiphany 2 (15.01.2017) Tony Dickinson
'Where are you staying?' It's such a banal question, the sort of thing we might say to the people on the next table in the restaurant when we're on holiday. Nothing more than small talk '" except St John doesn't do small talk, and the question that Andrew and his unnamed friend ask Jesus uses a Greek word, μενω, of which St John is particularly fond and which he uses often in his Gospel and in his letters.
More....
Baptism of Christ (08.01.2017) Tony Dickinson
In the Eastern Church at this time of year they like to go for a swim '" well, not a swim exactly. In the Russian Orthodox Church on the Feast of the Epiphany people go out from the liturgy, cut a cross-shaped hole in the ice over the nearest stretch of water, strip down to their swimsuit or Speedos and plunge in. They do this as a powerful identification with the baptism of Jesus, which we celebrate today, and as a way of remembering their own baptism.
More....
Epiphany (06.01.2017) Tony Dickinson
Journeys, particularly dangerous journeys, have been among the top stories on the news media for more months than probably any of us cares to remember. We have watched refugees from civil war in Syria '" and from other conflicts in Iraq, Afghanistan and Africa (north and south of the Sahara) '" making the desperate journey across the Mediterranean or the Aegean, and wept over those, especially the children, who fail to make it. We have followed the survivors as they trudge across Europe in the hope of finding safety.
More....
December Sermons
Christmas Day 25.12.2016) Tony Dickinson
What would the big news story have been in Bethlehem twenty centuries ago? Traffic chaos? Hotel over-crowding? The rights and wrongs of Governor Quirinius's census? The likely economic effect of a new poll tax? The more nationalistic media would probably have blamed the Romans for everything and demanded that the Jewish authorities in Jerusalem take back control.
More....
Christmas Eve Midnight (24.12.2016) Tony Dickinson
'In the beginning was the blueprint.' That's not quite what St John says in the prologue to his Gospel which we heard a few minutes ago '" at least not according to most of the English-language translations of the New Testament. They agree on translating the Greek 'λογος' into English as 'word', with a capital 'W'. 'The Word was with God. The Word was God'¦' And finally, 'The Word became flesh'.
More....
Advent 4 (18.12.2016) Tony Dickinson
What links an exasperated prophet eight hundred years before the birth of Christ, a much-travelled letter-writer on his way to Rome half a century after that birth, a priest of the Church of England dying in London in March 1791 and us, marking the fourth Sunday of Advent? Let's begin with that much-travelled letter-writer: St Paul, as you probably guessed, laying out his credentials for the Christian communities of Rome as someone 'called to be an apostle, set apart for the gospel of God'.
More....
Advent 3 (11.12.2016) Tony Dickinson
Have you ever stepped onto a paving slab and felt your foot go from under you? It happened to me a couple of times yesterday when I was out delivering Christmas cards. The readings this morning are, in some ways, a bit like that. They don't offer quite the firm footing that they appear to. The prophet, it is true, is brimming with confidence in the imminent arrival of God's new order. Glory, like June, is 'bustin' out all over'. Healing and renewal are the order of the day '" and not just for God's people but for the whole earth.
More....
Advent 2 (04.12.2016) Tony Dickinson
I've had a funny little song running around my brain for the past few days. Some people call it "The wreck of the Nancy Lee", but it's probably best known by the last line of the refrain, "He played his ukele as the ship went down". If you remember it, you may remember the rest of the refrain, which begins "All the crew were in despair, Some rushed here and others rushed there..." It doesn't sound all that different from the situation which Jesus described in today's Gospel. It doesn't, actually, sound very different from the stories that leap out at us when we switch on the radio or TV, or when we open the newspaper.
More....
November Sermons
Advent 1 (27.11.2016) Jeremy Moodey
It's a pleasure to be back here at St Francis of Assisi, especially given the generous support which I know many of you give towards the work of Embrace the Middle East, or BibleLands as was. My last visit to Terriers was in February 2014 and I spoke then about the compassionate ministry of our Palestinian Christian partners in Gaza. They're engaged in some amazing work, running schools, hospitals, clinics and many other social projects. This despite the tiny size of the Christian community in Gaza, less than 0.01% of the total population of almost two million.
More....
Christ the King (20.11.2016) Tony Dickinson
We were left last Sunday with 'the silence of a dying God'. Today's Gospel has forcibly directed our attention to the noises surrounding that silence: the jeering of soldiers, the derision of the Jewish leaders, even the desperate mockery of one dying man by another. Gallows humour, indeed. And in the midst of all that noise, one quiet piece of arrogant sarcasm which carries a double-edged truth that its authors could never have imagined. The charge-sheet nailed over the condemned man's head: 'This is the King of the Jews'.
More....
2 before Advent - Remembrance Sunday (13.11.2016)
Tony Dickinson
At eleven o'clock there will be silence. Perhaps that is the only proper response to the enormity which we remember today. Young men (and women) slaughtered in their thousands, whole nations bled white, on the Somme, at Verdun, or Caporetto, or Tannenberg. Then, twenty years later, an even greater disaster. Twenty-six million dead in Russia alone; another twenty million in China; seven million in the German Reich; three million in Japan: and three and a half million from Britain and the Commonwealth '" by far the largest number (about 2/3) coming from India.
More....
3 before Advent (06.11.2016) Tony Dickinson
When I was young, ever so many years ago, though not quite when woolly mammoths roamed the Thames Valley and the British Isles were still physically joined to Europe '" but back in the 1950s and early 1960s '" when I was young, my school friends and I used to love asking questions to catch one another out. Questions like this one: 'There were twenty-six sheep in a field. Two of them died. How many were left?'
More....
October Sermons
All Saints (30.10.2016) Tony Dickinson
Do you like Marmite? Hands up if you do. Do you hate Marmite? Let's see how many there are of you. I ask because Marmite politics, and Marmite politicians, seem to be the flavour of the month. You either love them or loathe them. Anyone who uses social media, especially people who go on YouTube or Twitter, knows how much loathing there is out there. From the way some people talk about politics and politicians, we might wonder if those four beasts rising from the waters of chaos in Daniel's vision are on the prowl again.
More....
Trinity 21 (16.10.2016) Tony Dickinson
This evening at All Saints we will be celebrating the confirmation of four members of our congregation, completing their baptism, owning their Christian faith. Today in the city of Dijon they will also be celebrating, especially at the church of St Michael in the city centre. It isn't often, after all, that an ordinary urban parish sees a member of its congregation recognised officially as a saint with a capital S '" even if they have had to wait more than a century from her death in November 1906.
More....
Dedication Festival (09.10.2016) Tony Dickinson
Today Francistide comes to an end in our Dedication Festival '" or 86th birthday party, as I prefer to think of it. This is the day when we give thanks for the vision of those who saw the need for a new church in Terriers and remember with gratitude those who made that vision a reality. We remember Henrietta Field, whose freewill offering encouraged the Church Commissioners to make provision for the building of a new church on Amersham Hill, and Giles Gilbert Scott, who brought the work to fruition. We remember Bishop Strong who travelled down from Oxford on 11th October 1930 to pray for God's blessing on this building and on the people who would worship here. And we remember Edwin Shaw, first Vicar of Terriers, who oversaw the creation of the new parish and who was pastor to its people through the first three decades of its life.
More....
Patronal Festival (02.10.2016) Tony Dickinson
ve been on the road all morning. You're walking along '" and suddenly the path divides. You're faced with three choices of road to follow. Each one leads to an important city. Which one are you going to take? How would you decide? What would you use to help you come to a decision? You might look in your guide-book. You might look at the map. Or you might do what St Francis did when he found himself in that situation. He told his travelling companion, a friar called Masseo, to stand in the middle of the crossroads and turn round and round until Francis told him to stop.
More....
September Sermons
Harvest Thanksgiving (25.09.2016)Tony Dickinson
There is an increasing number of Christians who are keeping the month of September as a time of reflection and prayer focused on God's creation. This initiative began in the Eastern Church, where the Ecumenical Patriarch Bartholomew has played such a central role in putting care for the creation on the agenda of Orthodox Christians that he is widely known as 'the Green Patriarch', but it is being taken up with increasing urgency in the West '" and in the world-wide Church, where protecting the integrity of God's creation has long been seen alongside justice and peace as a central concern for Christians in the present age. For Catholics this concern has been given added weight in recent years by Pope Francis, first by his choice of name and more recently by his letter 'Laudato si''.
More....
Trinity 15 (04.09.2016) Tony Dickinson
Who was around at Lighthouse in July? Did you sing lots of worship songs? Are there any that you remember in particular? Did you sing 'It's an adventure, following Jesus'? That used to be one of our son's favourites many years ago. We still have it somewhere on CD. I mention that song because today's gospel reading is about following Jesus '" and he certainly makes it sound like a real adventure. What do we think of when people talk about adventure?
More....
August Sermons
Trinity 14 (28.08.2016) Tony Dickinson
The only way up is down. The only way to the heart of reality is to live on the edge. That may sound daft, but that is what Jesus is teaching us this morning, taking up the wisdom of the Book of Proverbs and expanding it so that it becomes not just advice on how to behave in a particular social situation, but how to live our life.
More....
Trinity 13 (21.08.2016) Tony Dickinson
Both our readings today can be read as stories about liberation and transformation. Very obviously in the case of the gospel reading, focused on the woman bowed down, quite literally, by what sounds like advanced scoliosis (curvature of the spine); perhaps less so in the case of our first reading, with its focus on the two mountains, Sinai and Zion. So, let's start with the easy one. Where is the liberation in the gospel story? Who is set free?
More....
Trinity 12 (14.08.2016) Tony Dickinson
The Vicarage, like most of the rest of the country, has gone sport-mad. If it's not the Test Match (and the less said about that the better), it's the Olympics. Who stayed up into the small hours to watch Mo Farah and Jess Ennis-Hill? And who thought 'Well, there's a coincidence!' when they heard today's first reading? 'Let us run with perseverance the race that is set before us.' You couldn't have much more appropriate words than those for the Sunday in the middle of the Olympic Games, could you?
More....
Trinity 11 (07.08.2016) Tony Dickinson
What are you afraid of? People are frightened of lots of things. We've listed some of them. How many of you are scared of them? Now, for all of you who put your hands up to any of these things, there is a special message in this morning's Gospel. Can anyone tell me what it is? What did Jesus say to his disciples, right at the beginning of our Gospel reading?
More....
July Sermons
Trinity 10 (31.07.2016) Tony Dickinson 8.00am
Earlier this month the General Synod spent two days in closed session as (I quote) 'they reflected together on scripture and a changing culture in relation to their understanding of human sexuality'. That was the latest example of a curious habit of the Churches in the contemporary world. They have been very willing to spend time discussing and making pronouncements about same-sex attraction and reproductive rights and other matters about which Jesus said little or nothing, while at the same time they have largely ignored topics about which Jesus said a great deal '" like loving one's enemies, and renouncing violence, and (as we heard in this morning's gospel) the dangers of wealth.
More....
Trinity 9 (24.07.2016) Tony Dickinson
One of the reasons for the startling rise of Donald Trump, and of similar populist movements around the world, is the anger which is felt by many ordinary people at what they see as their betrayal by those who have power and influence. They have indeed been given a scorpion when they asked for an egg. They have been sold a dream which has turned out to be a delusion, if not a downright fraud, and as a result they have handed themselves over to an even greater delusion, the belief that one human being (or one political party) can somehow solve all their problems '" usually at the expense of other, equally marginalised groups.
More....
Trinity 8 (17.07.2016) 8.00 am Tony Dickinson
It may be, as St Teresa of Avila once said, that Martha and Mary must combine to give our Lord perfect hospitality, but those wise words come with a lot of baggage attached - and they don't necessarily help us make sense of what is happening. What is this 'better part' of which the Lord speaks?
More....
Trinity 7 (10.07.2016) Clare Hayns
Remember the programme 'Family Fortunes' with Bob Monkhouse in the 1980's? They would survey 100 people for the answer to a question and you had to guess the top answer? I bet that if you went out to the streets of High Wycombe and ask the shoppers if they know any stories from the bible then I think the parable of the Good Samaritan might well be one of the top three.
More....
St Thomas the Apostle (03.07.2016) Peter Wainwright
Today is the Saint's Day for Thomas the Apostle. The words of Thomas are recorded three times in the Gospel according to John. Then Jesus told them plainly, 'Lazarus is dead.
More....
June Sermons
Trinity 5 (26.06.2016) Tony Dickinson
There is an ancient Chinese curse, 'May you live in interesting times'. It's a curse, because the times that are interesting to subsequent generations tend to be pretty awful for those who live through them. Think for a moment about our current fascination with the various centenaries connected with the First World War, and then remember the hard-won wisdom of Harry Patch and the others who lived to bear testimony in our age to the horrors of that war. Think, too, about the result of Thursday's referendum. We are certainly living in 'interesting times' now.
More....
Trinity 4 (19.06.2016) Tony Dickinson
The dreadful events in Birstall on Thursday, and in Orlando last week-end, are profoundly disturbing in themselves. What is even more disturbing is the reflection we see in the mirror they hold up to post-modern western culture. A man charged with multiple offences, ranging from the possession of an offensive weapon to the murder of the forty-two year-old mother of two young children, announces in court that his name is 'Death to traitors, freedom for Britain'. A young man responsible for the death of forty-nine people in a nightclub was legally able to purchase an assault rifle despite having been investigated for possible connections to Islamist terrorists.
More....
Trinity 3 (12.06.2016) Tony Dickinson
Who's in and who's out? For once I'm not talking about the EU! I mean, who's worthy and who isn't? Those are the questions with which our readings today confront us. They have an added sharpness this morning, for me at least, because yesterday I was very much part of the 'in' crowd as Oxfordshire celebrated the Queen's 90th birthday with a service in Christ Church Cathedral.
More....
Trinity 2 (05.06.2016) Tony Dickinson
Who was the greatest Englishman ever? Who is your candidate? My candidate is a man who was born more than thirteen hundred years ago. His name was Wynfrith. He probably came from Devon. As a boy he went to a school attached to a monastery in or near Exeter and when he grew up he became a monk in a place called Nursling, near Southampton. There was a school attached to that monastery, too, and he taught at it.
More....
May Sermons
Trinity 1 (29.05.2016) Tony Dickinson
The Gospel is 'good news' but it is not about 'living happily ever after' '" even though passages like this morning's reading from St Luke may feel like that. The slave is seriously ill. The centurion, his owner, sends prominent members of the local Jewish community to ask Jesus for help. They put pressure on Jesus, insisting that the centurion is a good egg. Jesus goes with them.
More....
Trinity Sunday (22.05.2016) Tony Dickinson
First of all, a huge 'well done!' to all of you who were at yesterday's open day and still have sufficient energy to make it to church this morning. An even bigger 'well done!' to those of you who remembered what Sunday this is and still came to church anyway.
More....
Pentecost (15.05.2016) Tony Dickinson
Let us be quite clear at the outset: the scattering of the peoples and the confusion of languages at the climax of today's first reading are punishment for humanity's overweening in building the tower of Babel. They should not be taken as God's seal of approval for the individual nation-state, with one culture and one language, over against international cooperation across a range of cultures and languages. Nor should they guide our vote on 23rd June.
More....
Easter 7 (08.05.2016) Tony Dickinson
On this day in 1373 a young woman in her thirty-first year lay seriously ill in her family's home in Norwich. The people surrounding her bed thought she was dying. So did she. After she had lingered between life and death for nearly a week the parish priest was sent for. He gave her the last rites of the Church, expecting that she would be dead by the next morning; and he left a crucifix positioned at the end of her bed so that she could look at it and draw comfort and spiritual strength in her last hours.
More....
Ascension Day (05.05.2016) Tony Dickinson
Just what are we celebrating tonight? In past ages, when a widely-held world-view pictured a 'three-decker universe' with heaven as the top deck, earth in the middle, and hell, or some other kind of underworld at the bottom, many Christians were content to accept the ascension of Jesus into heaven as a historical event.
More....
Easter 6 (01.05.2016) Tony Dickinson
This morning let's hear it for Lydia! So far as we know she's the first person in Europe to become a Christian. She's also, so far as we know, the first leader of a Christian congregation in Europe. And she brought the whole of her household to be baptised.
More....
April Sermons
Easter 5 (24.04.2016) Tony Dickinson
If you've ever shared the life of a religious community during Eastertide, the odds are that, at some point during the day, you will have heard one of the sisters or brothers chant the words 'This is the day that the Lord has made, alleluia!': to which everyone else responds: 'We will rejoice and be glad in it, alleluia!'
More....
Easter 4 (17.04.2016) Tony Dickinson
I don't often begin a sermon with a text, but I'm going to this morning. It comes from our second reading, the Revelation to John, chapter seven and verse seventeen: 'The Lamb at the centre of the throne will be their shepherd, and he will guide them to springs of the water of life'. Those words sprang out at me because they echo the words on the display board that stood outside the church door each Wednesday during Lent to advertise our drop-in quiet days. It's still tucked away in the south porch
More....
Easter 3 (10.04.2016) Tony Dickinson
Well, yesterday's invasion by the so-called English Defence League seems to have gone off 'as well as could be expected'. There were only four arrests and (according the driver of the number 48 bus) the only sign of unusual activity was the amount of horse manure in the streets around Frogmoor. Otherwise everything was back to normal. 'Everything back to normal' seems to have been what was in Peter's mind in this morning's Gospel. 'I'm going fishing' was the story of his life in the days before Jesus, and here he is, back in Galilee after the resurrection, picking up the threads of that former life almost as if Jesus had never existed.
More....
Annunciation (4.4.2016) Tony Dickinson
Yesterday morning Mary (Amer) reminded us that today we are celebrating the start of the Christmas story '" and you could sense people groaning inwardly! Who wants to know about Christmas when the clocks have only just gone forward? But Mary was right, and in more ways than one. Gabriel's message, so often celebrated down the Christian centuries in the visual arts, in poetry, music and drama, is the beginning of the process through which the Creator becomes part of his own creation.
More....
Easter 2 (03.04.2016) 10:00 Tony Dickinson
Alleluia. Christ is risen! It isn't in the script. No. There's absolutely nothing about the vicar throwing Easter eggs into the congregation. It isn't in the script. But then, there's a whole lot about Easter that isn't in the script. The women finding the stone rolled away and the body of Jesus gone, as we heard last Sunday. That wasn't in the script. Jesus suddenly appearing in a locked room with his disciples, as we heard this morning. That wasn't in the script, either.
More....
March Sermons
Easter Sunday (27.03.2016) 10:00 Tony Dickinson
How did Mary know it was Jesus? She was crying so much, she couldn't see him clearly. She didn't recognise his voice when he asked her why she was crying. And anyway, she wasn't expecting to find him alive. She had watched him die and she had looked on as he was buried. What made the difference?
More....
Easter Sunday (27.03.2016) 06:30 Tony Dickinson
One of my predecessors as vicar of St Peter's in Chalvey was notorious for his Easter sermons. Every year he would read the Gospel for the day with all due solemnity, mount the pulpit and say 'Alleluia! Christ is risen!' And that was that. Carry on with the rest of the Mass and go home.
More....
Palm Sunday (20.03.2016) Tony Dickinson
On Friday we remembered a 4th-century bishop, Cyril of Jerusalem: appropriately, given his continuing influence on the church's worship at this time of year. Cyril, you see, was a brilliant educator. Christian formation was his thing, and he realised early on that God had given him the most wonderful aid for that work '" the city of which he was bishop.
More....
Lent 5 (13.03.2016) Tony Dickinson
I think that Judas Iscariot might have felt very much at home in 21st-century Britain. His complaint 'Why was this perfume not sold for three hundred denarii and the money given to the poor?' suggests that he was someone who knew, in Oscar Wilde's famous phrase, 'the price of everything and the value of nothing'.
More....
Mothering Sunday (06.03.2016) Tony Dickinson
I get quite cross when people call today 'Mother's Day'. On one level Mother's Day is easy. It's about saying 'thank you' to mothers. We might do that by organising breakfast in bed for our mother '" did anyone in church do that this morning? How about buying her a box of chocolates or a bunch of flowers? Did anyone do that?
More....
February Sermons
Lent 3 (28.02.2016) Tony Dickinson
Yesterday afternoon I was in Forest Hill, taking part in the annual celebration of Dietrich Bonhoeffer's life and thought organised by the Lutheran Church there. The theme this year was identity, exile and belonging. One of the speakers was a Kurdish refugee from Syria, who talked about his reasons for leaving his own country and making the long and dangerous journey to England.
More....
Lent 2 (21.02.2016) Tony Dickinson
So, it's 23rd June, after all. Yesterday's announcement of the date of the referendum on the future of the UK means, at one level, good news for us. A referendum means that this building will be used for voting '" and that, on top of the election of a Police and Crime Commissioner for the Thames Valley, means two slices of funding from Wycombe District Council for our church. But at another level it is less good news for us and for the rest of the United Kingdom and the other nations of Europe.
More....
Lent 1 (14.02.2016) Tony Dickinson
Our readings this morning take us in opposite directions. In our first reading Moses looks forward to the Israelites' future after they have left the wilderness. In today's gospel, Jesus heads back into the wilderness for a time of testing. It is, at first sight, a slightly strange coupling, but it makes a degree of sense.
More....
Ash Wednesday (10.02.2016) Tony Dickinson
Is this a Fast, to keep The larder lean? And clean From fat of veals and sheep? Is it to quit the dish of flesh, yet still To fill The platter high with fish? Is it a fast an hour, or ragg'd to go, Or show A down-cast look and sour?
More....
Sunday next before Lent (07.02.2016) Tony Dickinson
Who likes going to the dentist? Is your dentist a fun person? Sometimes they can be. Many years ago, when I was a curate in Watford, my teeth were looked after by a wild Irishman. He used to enjoy asking me difficult questions about God when I had my mouth full of his drill or bits of filling, or both.
More....